The Rio Scream-Shrug Conspiracy
on
April 15, 2011
at
2:00 pm
A conspiracy involving indifferent screams probably wouldn't interest anyone.  Even if the whole world was involved, the blandness of the deception would guarantee that even Atlas Shrugged (Rotten Tomatoes – Metacritic).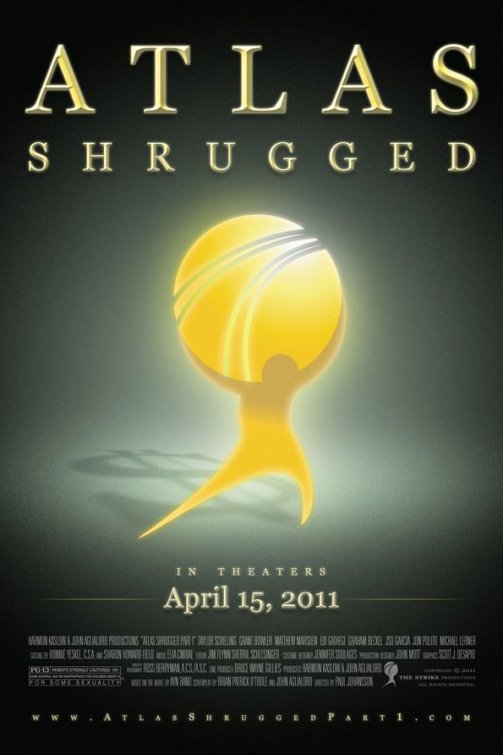 "Let's say you know the novel, you agree with Ayn Rand, you're an objectivist or a libertarian, and you've been waiting eagerly for this movie. Man, are you going to get a letdown." Roger Ebert Chicago Sun-Times
Man, is there a way to let me down easy?
"Part one of a trilogy that may never see completion, this hasty, low-budget adaptation would have Ayn Rand spinning in her grave, considering how it violates the author's philosophy by allowing opportunists to exploit another's creative achievement — in this case, hers." Variety Peter Debruge
My sympathies to Ayn Rand, for having to endure grave spinning and robbing at the same time.
"Campy but never dull, this first of three installments ends on a fiery cliffhanger. The completion of parts two and three would represent a victory for irrationality." Time Out New York Ben Kenigsberg
"Look, the problem with adapting Atlas Shrugged in the first place is that it's just not a great story." Silas Lesnick ComingSoon.net
Look, I hear ya, it's just not a great movie.
"Atlas Shrugged. I arched eyebrow, scrunched forehead, yawned." Carrie Rickey Philadelphia Inquirer
In response, I lowered eyebrows in consideration, nodded with acceptance, and shrugged with indifference. Unless you'd rather hear screaming, but what would I Scream 4 (Rotten Tomatoes – Metacritic)?
"The kills themselves are both bountiful and bloody, the movie references are brilliant and bloody, the funny is very frequent and very frequently bloody, but to say any more would ruin the boo." Los Angeles Times Betsy Sharkey
Spoilers = Boo-Hoo.
"Scream 4 will either fail your high expectations or go above your low ones. Whichever it is, just please don't call it Scre4m." Matthew Razak Flixist.com
If it makes enough money, you'll hear more Scream5.
"The perfect Scream film for the Charlie Sheen age, a bloated, overhyped folly trading the intelligence of its origins for empty calories and dull platitudes – or, as they call it in Hollywood, what the kidz want. #Winning, etc." S.T. VanAirsdale Movieline
"While it never fully realizes its intriguing ending – thematically or dramatically – there's a savage critique of our obsession with unearned celebrity and an honest, if too gentle, admission that franchise filmmaking is often worthy of mockery." Jeff Meyers Metro Times (Detroit, MI)
Even though the movie appears to have mastered meta-movie mockery, there's always room for one last stab.
"There are so many characters and bit parts, with a mystery bathed in relentless red herrings and half-baked false scares that it turns Scre4m into an episode of Murder, She Wrote outfitted in a push-up bra designed for A cups and a bit too much bronzer." Adam Lippe Examiner.com
Compared to other movie slashers, ghost face is equally flat-chested, but considerably more pale.  He should go someplace warm and sunny, like Rio (Rotten Tomatoes – Metacritic).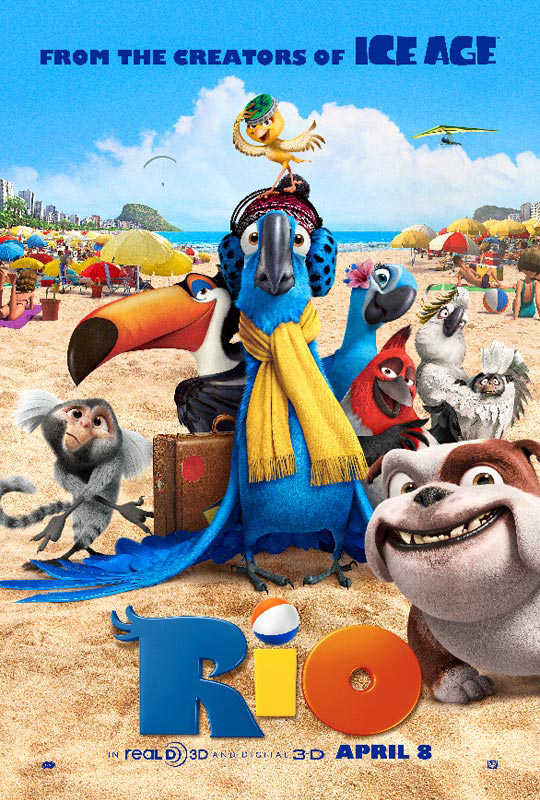 "This rom-com for kids is spiced nicely by some great musical numbers and a snappy buffing up of the standard "be yourself" theme that now seems mandatory in any kids animated film." Jim Schembri The Age (Australia)
Did kids' movies ever have a "be someone else" theme?  Upon reflection, that's the driving force behind, The Little Mermaid (be someone with legs), Cinderella (be someone rich), and Sleepy Beauty (be someone awake).
"Rio is less a Pixar-level pleasure than a busy, frantic, and overstuffed dessert of a movie. There's scarcely a moment that isn't straining to entertain you." Owen Gleiberman Entertainment Weekly
"[S]o tediously familiar that I could barely remember most of it after I left the cinema…" MaryAnn Johanson Flick Filosopher
Wait, what were we talking about?
"Makes the surprising and seemingly inarguable assertion that, if we're not all Brazilian, then, at the very least, Brazil is a state of mind." Boston GlobeWesley Morris
"Like its flight-challenged parrot protagonist, Rio takes a while to get off the ground but manages to soar by the end." Variety Leslie Felperin
If the bird's never got off the ground, I'd suspect fowl-play.  But if there was sabotage, who would be The Conspirator (Rotten Tomatoes – Metacritic)?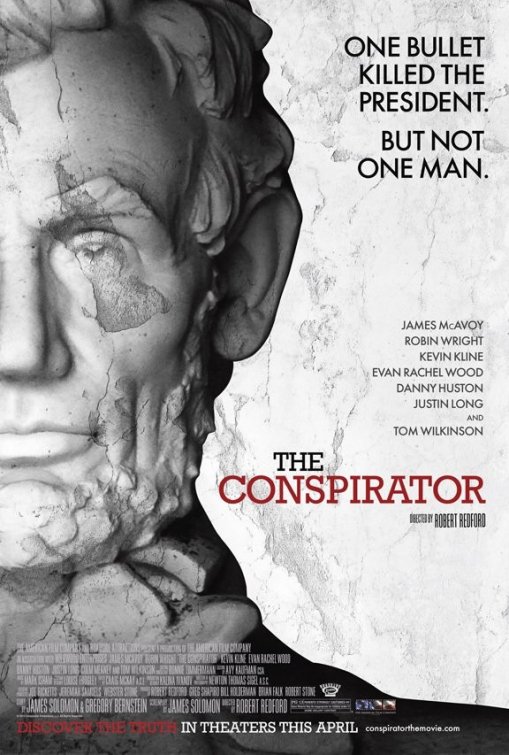 "Wright's performance is the key to a movie that pulses with the sick thrill of historical discovery. The Conspirator reminds us that. when we surrendered so many of our Constitutional rights and judgments after 9/11, it wasn't the first time." Time  Richard Corliss
"America will never be destroyed from the outside. If we falter and lose our freedoms, it will be because we destroyed ourselves." Abraham Lincoln
"Instead of recreating history with fantastic cinematic sway, the feature feels like thumbing through a textbook where the pictures are the only highlight." Brian Orndorf BrianOrndorf.com
That works out, since movies are thousands of pictures shown together.
"Instead of entertaining us, director Robert Redford offers us a handsome history lesson that's as dry as a hardtack biscuit." Joe Williams St. Louis Post-Dispatch
"No matter where your political leanings lie, the great thing about The Conspirator is that Mr. Redford is wise enough to let the audience decide what the parallels are. See it, enjoy a ripping good yarn and learn something." New York Observer Rex Reed
I look forward to learning more about yarn ripping.
"Sober, respectful, but rather stilted and talky…may be long on factual accuracy, but…it lacks dramatic energy." Frank Swietek One Guy's Opinion