This Must Be The Iron Fist Wreck-It Flight
on
November 2, 2012
at
1:37 pm
It must? Rather than face two-fisted flying destruction, let's take Flight (Rotten Tomatoes – Metacritic).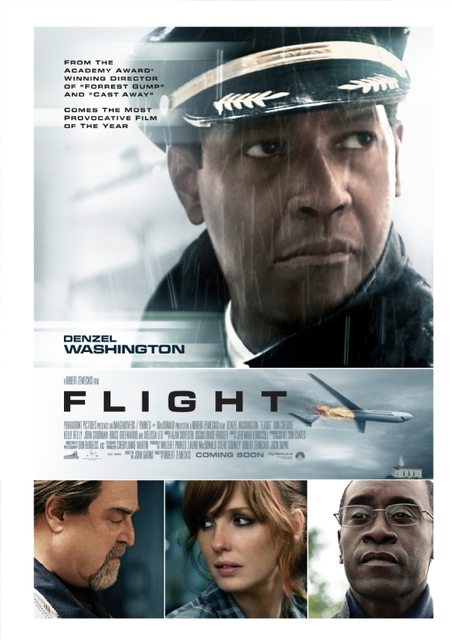 "A riveting character study, and a sometimes moving and sometimes amusingly amoral morality tale set in the vodka-and-coke friendly skies." Roger Moore McClatchy-Tribune News Service
People prefer to fly the highly-trained and recently-passed-drug-test skies.
"A mostly gripping character study of a man who's half hero and half villain [that] gives you the opportunity to enjoy watching Washington again at the top of his game." Frank Swietek One Guy's Opinion
"The film tackles serious issues of addiction, legal intrigue and personal responsibility, with Denzel Washington in top form as a heroic yet morally compromised protagonist." Colin Covert Minneapolis Star Tribune
Doing a roundup of Denzel's Unstoppable filmography could give someone a Heart Condition. Whether he plays Antwone Fisher, John Q or Malcolm X, he makes The Great Debaters look like it's their Training Day. His acting Power could make you believe The Book of Eli is about The Mighty Quinn, an Inside Man with The Manchurian Candidate, who took a Ricochet from an American Gangster in a Philadelphia Safe House during The Taking of Pelham 123. Facing a Crimson Tide, he shows Courage Under Fire, but after The Siege came The Pelican Brief, which felt like The Hurricane to The Bone Collector, who had Fallen for The Preacher's Wife, a Devil in a Blue Dress, who was enjoying a Mississippi Masala and singing Mo' Better Blues. Just as a Man on Fire is a man Out Of Time and Déjà vu feels like a Carbon Copy, Denzel's Glory and Virtuosity might be Much Ado About Nothing, but when Hollywood chooses to Remember the Titans, Denzel's name will be heard. After all, He Got Game.
"Zemeckis shows he still has a vivid visual sensibility and a finger on the zeitgeist. But the script by John Gatins leaves nothing up in the air and returns all the tray tables locked in their upright positions." Marjorie Baumgarten Austin Chronicle
Should Denzel brace for Oscar landing?
"Not often does a movie character make such a harrowing personal journey that keeps us in deep sympathy all of the way." Roger Ebert Chicago Sun-Times
If deep sympathy intimidates, aim for shallow sympathy and tell yourself "This Must Be The Place (Rotten Tomatoes – Metacritic)."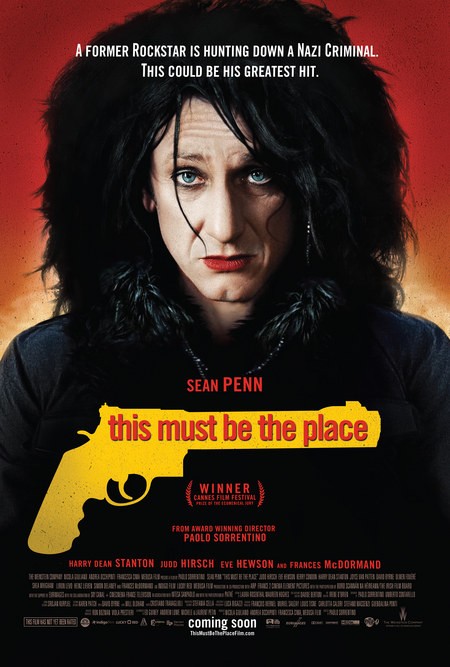 "It's an intriguing patchwork of a picture, with all the direction of a wonky-wheeled suitcase." Scotsman
Wonky-wheeled suitcases move in the same direction as all wheeled motorless contraptions, whichever way gravity and momentum dictates.
"This Must Be the Place is a bewildering piece of work, a picture that may have initially been guided by a sweet impulse but takes a sharp left turn into crazytown." Stephanie Zacharek Movieline
Other acceptable synonyms for crazytown include: Bonkersburg, Mentalpolis, and Daftville.
"Determinedly quirky and cool, arresting and ultimately too baffling to be satisfying, although Penn is priceless. Cultdom beckons." Angie Errigo Empire Magazine
"It doesn't really work but it's very watchable all the same." Derek Malcolm This is London
And if you'd rather watch someone work, make sure they have an interesting job like Wreck-it Ralph (Rotten Tomatoes – Metacritic).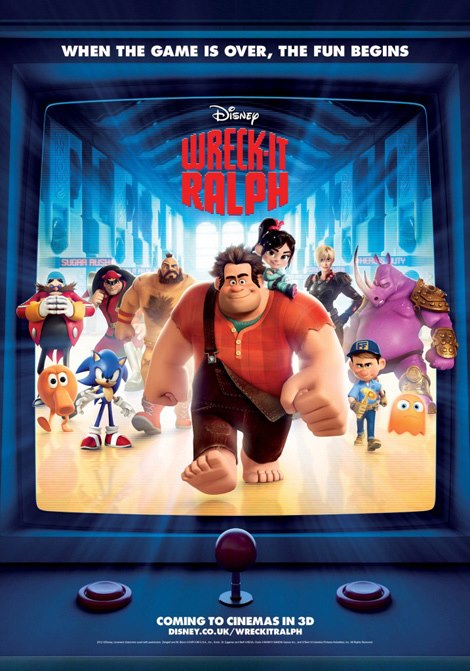 "Built for fun…in its dazzlingly elaborate production design and kinetic 3D action…perfect casting…Who Framed Roger Rabbit-esque video-game-character cameos, and a cramming of clever comic touches…" Peter Canavese Groucho Reviews
Sometimes review summaries are equally kinetic….oddly phrased with the aid of ellipses…able to cram several ideas together…clinging to the idea that's it's one sentence.
"The imagery is amazing – and always witty. This is a Disney cartoon – but it's got the imagination and brains of a Pixar feature." Marshall Fine Hollywood & Fine
"Consider it a force in the Best Animated Film Oscar race." Boxoffice Magazine Pete Hammond
"I do not care one bit about video games. Even if I did, I suspect I wouldn't be a fan of the loud and frenzied 'Wreck-It Ralph.'" Chris Hewitt (St. Paul) St. Paul Pioneer Press
It's nice when a critic recognizes their potential bias, then rejects it in favor of their original opinion.
"It was such a great time at the cinema; I was expecting to like it and I ended up falling in love." Mark Ellis Schmoes Know
It's nice when a critic recognizes their potential bias, then rejects it in favor of their original opinion. If you don't like deja vu, consider challenging The Man With The Iron Fists (Rotten Tomatoes – Metacritic).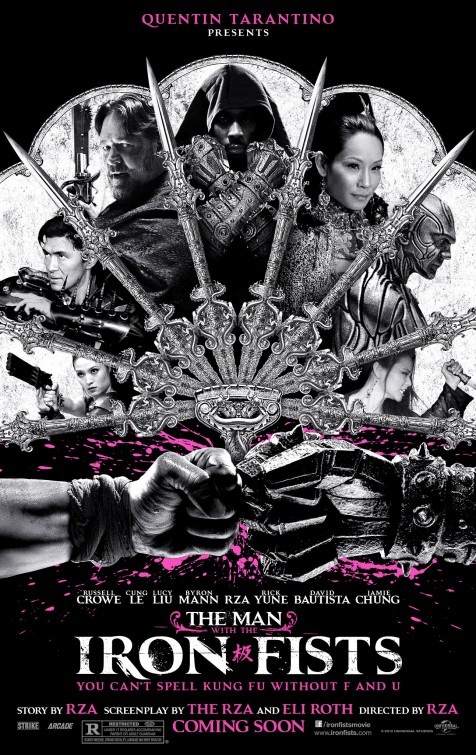 "The Man with the Iron Fists is a visually glorious mix of violent chop suey, Blaxploitation and spaghetti western conventions, played to a hip-hop beat as only RZA could do." Matthew Pejkovic Matt's Movie Reviews
We are witnessing the birth of a new genre, the western hip-hop chop suey pastaploitation. Say that five times fast, then give your mouth a day off.
"As endearing as it is exhausting, The Man With the Iron Fists bears strong resemblance to a hyperactive puppy: sloppy, scatterbrained, manic and migraine-inducing, but possessing an earnest sense of excitement." Andrew Barker Variety
"It's a real film, and a fun one, made with gonzo good humor and plenty of action from the opening brutal battle over which the sound of The Wu-Tang Clan's 1993 single "Shame on a N***a" roars." Boxoffice Magazine James Rocchi
When someone uses f***ing stars, do you hear the word or the censor's bleep?
"The chop-socky wire-fu scenes are beautifully choreographed, but pretty crudely edited; despite its gourmet neo-grindhouse trappings, the film won't bring the heat like you've never seen before." Steve MacFarlane Slant Magazine