Tron Rabbit Jacks Bear Casino
on
December 17, 2010
at
6:48 pm
Big event movies, Oscar contenders, and family films on the same weekend means we have entered the holiday movie zone. The first and last of this weekend's movies are remakes/sequels that rely heavily on computer graphics.  Witnessing the advancement in believability and sophistication between a digital world made in 1982 and today may be the real Tron Legacy (Rotten Tomatoes – Metacritic).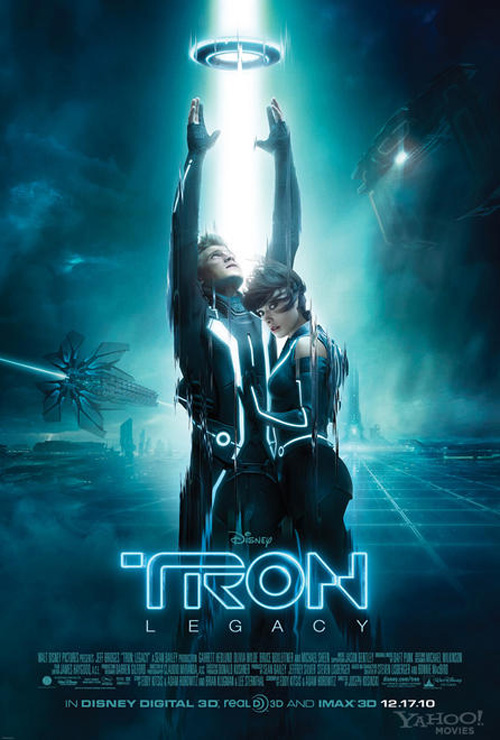 "While it seems less like a parody than the original, it is also silly in a not unpleasing way. I generally have little use for 3-D, but the effects in this film are subtle and well-executed; as these things go, the least obnoxious ever." Mary F. Pols TIME Magazine
It's the good kind of non-unobnoxious, double-negative silly. While it's unclear what that means, critics seem eager to stick a label on the film.  Since it's almost Christmas, go ahead and get sticky.
"A Clockwork Orange as imagined by a Commodore64." Walter Chaw Film Freak Central
Grimly challenging social commentary via a computer with less memory than a coffee maker.  I doubt that label will stick.
"TRON: Legacy is beautiful but cold, more machine than man." David Medsker Bullz-Eye.com
So, Tron is Darth Vader.
"Inertia never looked so good." Charles Koplinski Illinois Times
"An eyeball party. The score by Daft Punk, which veers from homages to Hans Zimmer's thundery work in "The Dark Knight" to a retro-'80s synth sound, surpasses magnificence." New York Post Kyle Smith
It's an eyeball party with a earhole rockin' after-party.
"Hugely disappointing, style-over-substance sequel that's let down by a derivative script, wooden performances, poorly directed action sequences and a criminal lack of humour." Matthew TurnerViewLondon
Is there a way to condense that negativity into a smaller package?
"This holiday season, disappointment comes in fluorescent blue." Jordan Hoffman UGO
If you're given a fluorescent blue present this year, expect amazing sensory experiences or disappointingly boring sci-fi slock.  When all you see is a wrapped box, How Do You Know (Rotten Tomatoes – Metacritic)?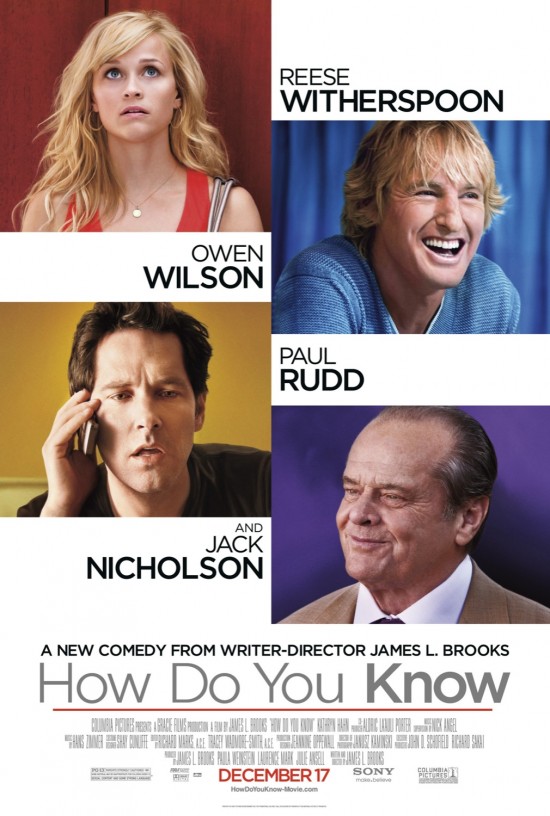 "You may be able to ignore [its] flaws yet as the cinematic equivalent of an ice cream sundae with far too many ingredients, you may end up feeling a bit queasy afterwards." Daniel M. Kimmel New England Movies Weekly
Every film is a metaphor this week.  But in this case, it's hard to blame the sundae if I ate it and felt queasy afterward.
"It is not funny; it is not heartwarming. It has all the zesty champagne fizz of Pepto-Bismol." Colin Covert Minneapolis Star Tribune
"An airless, sometimes distressingly mirthless comedy." Manohla Dargis New York Times
If there is no air, wouldn't people be too distressed to make jokes?
"A dour sort-of romantic drama with an A-list cast, a few comic moments and the disjointed sense of talented filmmakers flapping their arms in an effort to make it fly." Amy Biancolli Houston Chronicle
If your film can't soar, go the other way and venture down the Rabbit Hole (Rotten Tomatoes – Metacritic).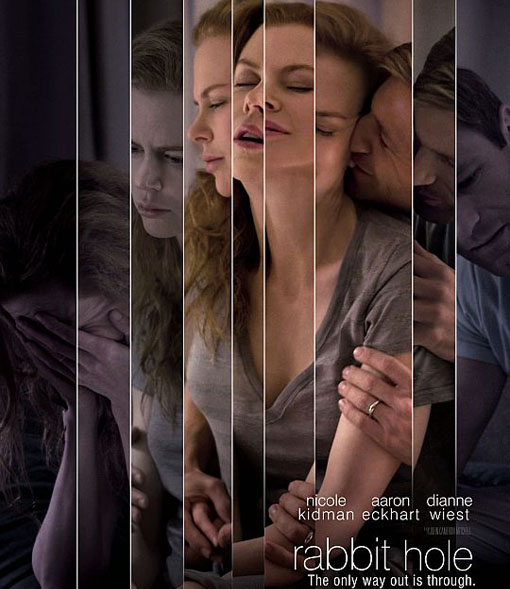 "Grief may be the topic under examination, but humor — incisive, observant and warm — is the tool with which it's dissected in Rabbit Hole, a refreshingly positive-minded take on cinema's ultimate downer: overcoming the death of a child." Variety Peter Debruge
Calling a child's death 'cinema's ultimate downer' seems like a understatement in any form, but at least there are laughs.
"Easily the most gracefully performed grief-porn you'll see this season." Time Out New York David Fear
Grief porn:
1) A film genre devoted to exploiting the sadness of personal loss.
2) Are there such things as grief porn addicts?
"Kidman, in a career-best performance, and Eckhart lend pitch-perfect calibration to the couple's shared and separate agonies. It's as if previous treatments of the subject were a series of failed experiments, and Rabbit Hole is the Eureka! moment." Time Richard Corliss
"Like Crash without the clunky characterization, Rabbit Hole is film as medicine, a big, pretty pill to be uncomfortably swallowed." Ed Gonzalez Slant Magazine
Was it harder to swallow than my Eureka joke?
"A quiet, devastating, beautifully acted drama about the devastation of loss and the slow, muted, barely-there return of hope." Moira MacDonald Seattle Times
On the day devastation loses to hope, you have fortune on your side; perhaps luck will continue to smile if you hit a Casino Jack (Rotten Tomatoes – Metacritic).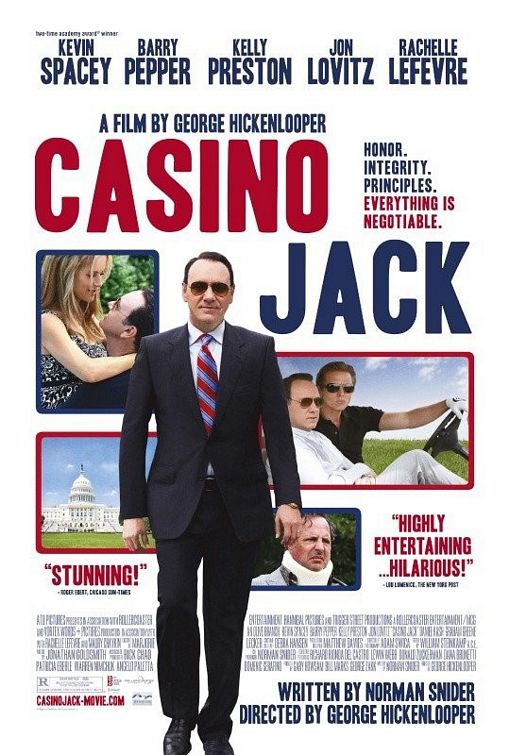 "Slick superlobbyist Jack Abramoff is the colorful subject of Casino Jack, a similarly slick and undeniably entertaining true-life D.C. crime story, boasting a robust Kevin Spacey performance." The Hollywood Reporter Michael Rechtshaffen
Not long ago this story was covered in the documentary: Casino Jack and The United States Of Money.  Perhaps,"Casino Jack and The United States Of Poor" didn't have the same ring to it.
"A revisionist history bio-pic, reminiscent of Charlie Wilson's War, which recasts an arrogant influence-peddler behaving like he's above the law as merely a bad-boy bon vivant with the best of intentions." Kam Williams TheLoop21.com
If you're going to rewrite history, why make a drama?  If we mash-up of science fiction and comedy we could make Devonian Park –  the story of a scientifically dubious theme park devoted to ancient plants with funny names like Progymnosperm.
"Spacey is the reason to see Casino Jack. This movie will stand alongside The Usual Suspects and American Beauty as examples of what the actor is capable of accomplishing when he is properly motivated." James BerardinelliReelViews
And if your entire motivation in life is to steal people's picnic baskets, your name is probably Yogi Bear (Rotten Tomatoes – Metacritic).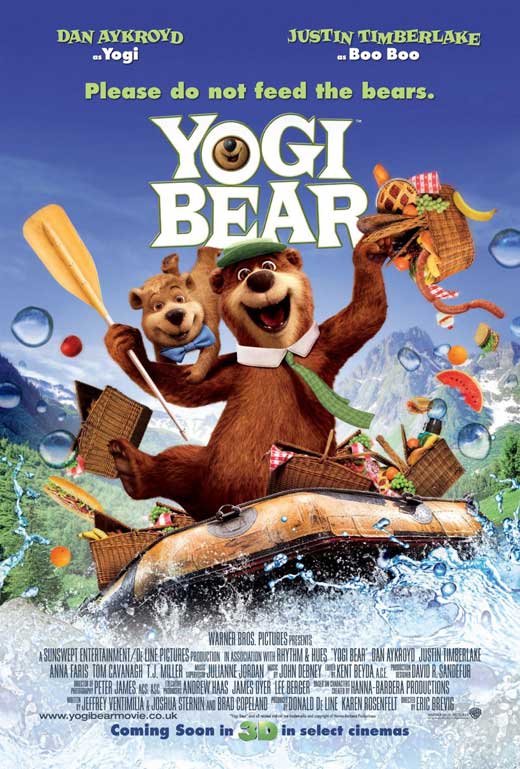 "If NC-17 is going to stick around, I propose its counterpart at the other end of the spectrum: A rating to protect prospective viewers from films that are only for very childish children." Michelle Orange Movieline
NA>6?  GG for GaGa?
"There's nothing particularly inventive in the plot or grade-school humor, but the movie skates by on the timeless, undemanding charm of watching a tie-wearing bear try to steal people's lunches." Adam MarkovitzEntertainment Weekly
"'Yogi Bear' gives cheap hackwork a bad name." Michael Phillips Chicago Tribune
Unless a film earns a Razzie, bad movies rarely earn awards.  To celebrate the (somewhat) hard work and (periodic) determination of hack writers everywhere, the remainder of this roundup will feature the cheapest, hackwork comments I can muster. Enjoy?
"Picture Timberlake in the booth recording his lines and you have the best joke in the movie. Everything else is actively painful, a frenetic, unfunny mix of action, romance, dud dialogue, and icky things popping out of the screen." Ty Burr Boston Globe
The movie sounds like poop out of the screen.
"Little Boo Boos might giggle at the slapstick, but most folks over the age of 5 will find the tired plot and lame jokes unbearable." Matt Stevens E! Online
I'd hoped the movie was smarter than the average bearable.
"Yogi Bear has good intentions, but so does everything else that paves the road to hell." David Medsker