Unstoppable Morning Sky Glory
on
November 12, 2010
at
3:53 pm
Or, for the minimalist readers, the title for this round-up could be summarized as 'sunrise.'  However, it seems excessive to call something glorious when every morning our planet spins us around for a view (that you're not supposed to look directly at) of a flaming ball of gas 93 million miles away.  Regardless of the adjectives you use to describe it, we all have access to the giant astral spotlight that appears every morning on the Skyline (Rotten Tomatoes – Metacritic).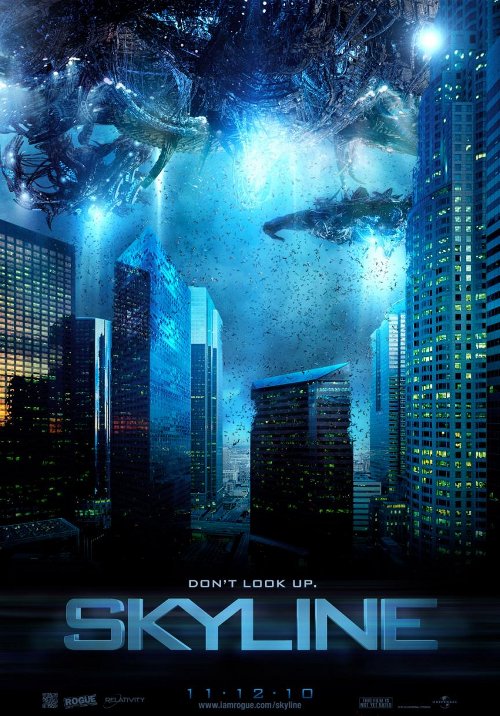 "Chintzy CGI-laden chaos sandwiched between lengthy stretches of tedious, amateurish dramatic filler…a cheapy, painfully uneventful snoozer." Brian Orndorf Sci-Fi Movie Page
Possible tagline: So scary it will put you to sleep…out of fear.
"An underwhelming and derivative sci-fi thriller that's only marginally more impressive than a run-of-the-mill SyFy Channel telepic."  Variety Joe Leydon
For the uninitiated, previous SyFy Channel offerings include Stonehenge Apocalypse, Planet Raptor, and Anonymous Rex.
"Technically ambitious, dramatically basic. Still, it's a major step up from an AvP sequel and delivers all the Saturday night whizz-bang and Sunday morning brain-ripping you could want."  Empire Kim Newman
"Taken in the spirit in which it's hopefully intended — a brainless thrill ride — Skyline is a slick genre piece that entertains for 92 minutes and is forgotten as soon as you walk out of the cinema." Liverpool Echo
Best case scenario, your wallet is twenty bucks lighter and you forget what you did for the last two hours.

"I suppose it's fitting that a movie about aliens extracting human brains would eventually lose its head." Josh LarsenLarsenOnFilm
I suppose our next movie about an out-of-control train will eventually stop even though it claims to be Unstoppable (Rotten Tomatoes – Metacritic).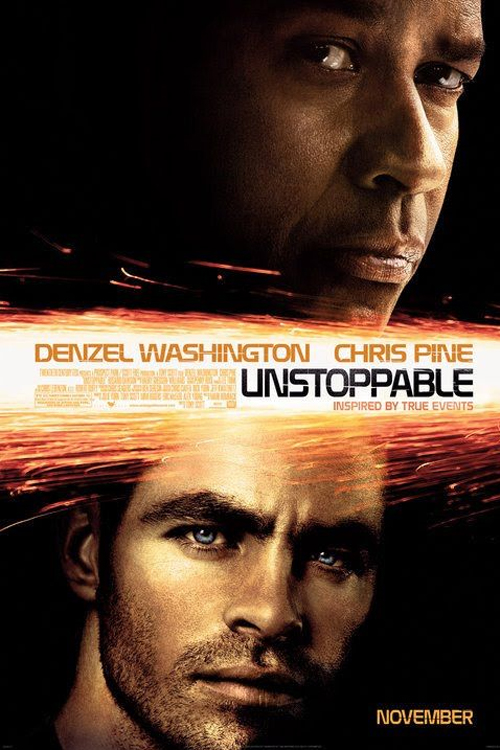 "Unmanned freight train's loose. Must be stopped. Veteran train engineer Denzel Washington and newbie Chris Pine are on the job. Questions? I can't believe we wasted even that much time on the plot." Michael Phillips Chicago Tribune
At least you saved me from having to explain the premise.
"Unstoppable is evocative of the economically depressed Midwest, and celebrates no-nonsense blue-collar manhood. It's an engaging action/thriller in which no one pulls out a gun or throws a punch, and that's something." Christopher Lloyd Sarasota Herald-Tribune
A blue collar action thriller with no guns or fist fights? They must spend their non-action moments talking and drinking beer.
"It's like a mashup of classic commercials for Ford pickup trucks, Bud Lite, and Hooters (where, God help us, Frank's daughters are working their way through college)." St. Petersburg Times Steve Persall
Let's just be glad reviewers haven't been making Hooters jokes in their reviews.
"It's not exactly an intellectual exercise, but Unstoppable is a hoot." Arizona Republic Bill Goodykoontz
Never mind.
"Though far-fetched in the extreme and formulaic to a fault, the movie succeeds as an empty-headed adrenaline rush. It's pure popcorn escapism, and it works on that level." Frank Swietek One Guy's Opinion
Some people prefer to escape by eating popcorn, others with a muffin and Starbucks.  Depending on the time of your mental departure, it's either evening entertainment or Morning Glory (Rotten Tomatoes – Metacritic).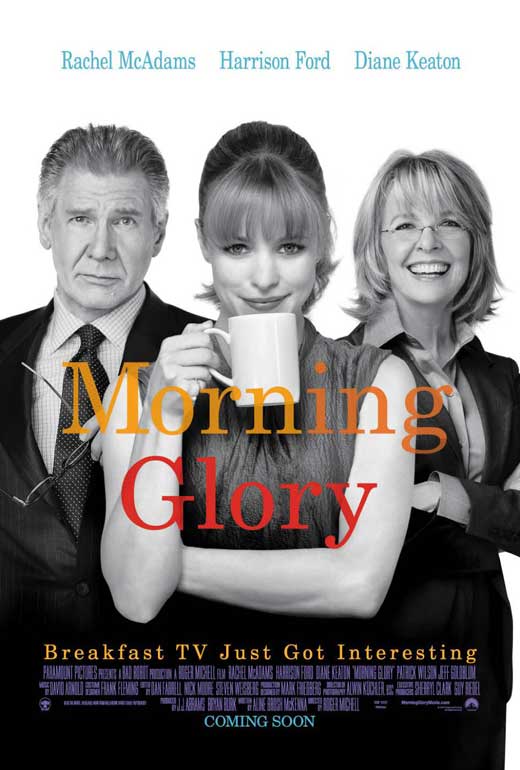 "Where Broadcast News mourned the trivialization of the nightly news, Morning Glory asks you to learn to stop worrying and love the trivia." Entertainment Weekly Owen Gleiberman
Today's Trivia: Hugh Hefner worked as circulation manager for "Children's Activities magazine" while raising money to start Playboy.
"Morning Glory raises the bar for lowering standards." Jordan Hoffman UGO
So it raises the bar by lowering it?   Isn't that like changing a high jump competition to a limbo contest the moment you realize you have no vertical lift?
"Yes, it's "The Devil Wears Prada," redux." The Globe and Mail (Toronto) Kate Taylor
Yes, that's the answer, but is this like Jeopardy where I need to guess the question?
"This just in: Morning Glory can't decide whether to skewer the morning news or wallow in its pap." USA Today Scott Bowles
Breaking news: Film critic attempts to demonstrate cleverness with news-themed syntax.
"Morning Glory is a juggernaut. It has one directive: make the audience fall in love with Rachel McAdams by all means necessary." Nick Nunziata CHUD
This weekend you have a choice of unstoppable trains or unrelentingly cute TV execs.
"Some of the on-camera bitchery between Mr. Ford and Ms. Keaton is laugh-out-loud witty. For the most part, Morning Glory is a delicious movie that will make you jump for joy." New York Observer Rex Reed