Wallflower Watches Dreaded End Of Street Curve
on
September 21, 2012
at
8:37 pm
Instead of watching children play or looking for inappropriate shapes in clouds, staring at a dangerous curve in anticipation of an accident is something most people would Dredd (Rotten Tomatoes – Metacritic).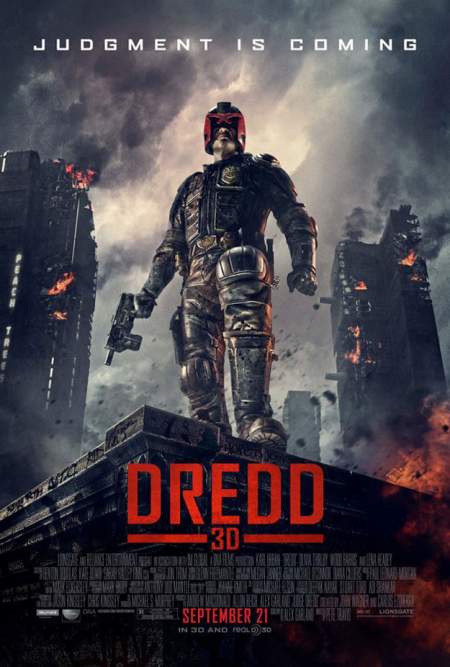 "A fine piece of cheap entertainment." Peter Hartlaub San Francisco Chronicle
Should we doubt a critic's definition of 'fine' if he thinks a $15 3D ticket is  'cheap?'
"My notes are as follows: "Shoot bad guy." "Shoot bad guy." "Shoot bad guy."" Kyle Smith New York Post
That sounds more like Dredd's To-Do list.
"There was much to dread about this new iteration of Dredd, but it's a solid, occasionally excellent take on the character, with Urban's chin particularly impressive." Empire Chris Hewitt
"Ultimately, your reaction to 'Dredd 3D' will depend on your tolerance for an almost breathtaking level of graphic violence." Drew McWeeny HitFix
Is there a way to determine our tolerances before the movie, like a gore-dar or shock-alzyer?
"Say what you want about Stallone's kitschy 1995 turn "Judge Dredd"…but the dude wore the helmet. Karl Urban replaces him in the new "Dredd," and, frankly, the helmet wears Karl." Roger Moore McClatchy-Tribune News Service
If you're interested in cops who wear badges rather than badges who wear cops, check out the police officers at their End Of Watch (Rotten Tomatoes – Metacritic).
"David Ayer, the writer of "Training Day," director of "Street Kings," writer/director of "Harsh Times," does not make movies about princesses with witchy curses, about yuppie commitment-phobes, about talking plush toys. His territory is narrow, but he owns it: cops, in Los Angeles." Philadelphia Inquirer Steven Rea
He owns the cops? So, this is a story about corruption?
"A visceral story of beat cops that is rare in its sensitivity, rash in its violence and raw in its humor." Betsy Sharkey Los Angeles Times
That is probably the nicest sentence to ever contain the words: rare, raw, and rash.
"The problem with End of Watch, a gripping police drama, is director David Ayer's stylistic decision to shoot nearly the entire movie tripod-less. Or, to put it another way, there's a whole lotta shakin' going on." ReelViews James Berardinelli
"At times Ayer rubs our noses, almost literally, in the devastating horribleness of it all." Stephanie Zacharek NPR
Is 'almost literally' another way of saying 'terrifically figurative?'
"It's the bang-bang that glues us. We'll have to save the nuances for another time. Who needs moral ambiguity, anyway?" Kelly Vance East Bay Express
Morals aren't ambiguous, but defining them is. Unless you see moral ambiguity as one of The Perks Of Being A Wallflower (Rotten Tomatoes – Metacritic).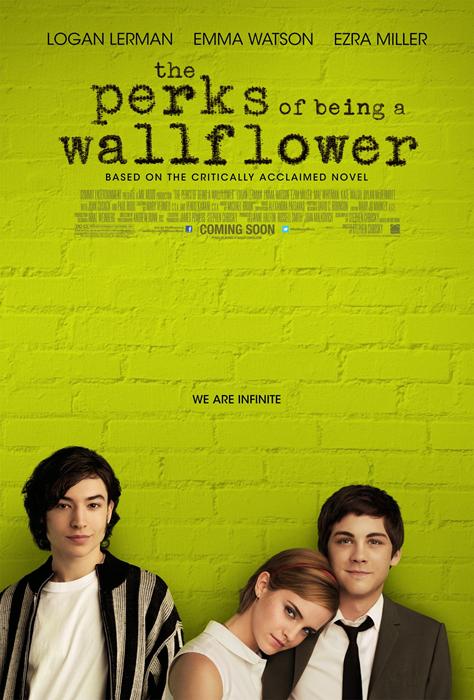 "The Perks of Being a Wallflower is a perfect fit for its target audience – the Harry Potter kids who are following Emma Watson through her baby steps towards the stronger stuff." The Guardian Henry Barnes
Alcoholic butter beer?
"Back in the director's chair for only the second time, the filmmaker, like his main character, is a little unsteady on his feet. But thanks to his stars, the film – like the book – is a smartly observed study of a troubled teen's first year in high school." Los Angeles Times Betsy Sharkey
That review, like the syntax, is unsteady on its feet, like a one-legged unicyclist.
"Fact is, much as you and I might want to protest that we were cooler than these kids, wherever and whenever we did our growing up, we probably weren't." Andrew O'Hehir Salon.com
"While there are humorous and poignant moments, this angst-filled story of tender kisses, awkward dances, friends drifting apart, kindly English teachers, unrequited crushes and drug-addled partying has a nagging sense of deja vu." USA Today Claudia Puig
The more films you see = the more likely you are to experience cinematic déjà vu. Ergo, it is a self-inflicted aliment and a professional hazard for critics.
"The film is also an earnest, big-hearted ode to friends as support and salvation, and to the talismanic quality a favorite song, treasured hang-out, or shared tradition can take on for a teenager." The A.V. Club Alison Willmore
The solace provided by favorite songs and comfy chairs/blankets/pants doesn't go away as you age, especially if your favorite hang out is the House At The End Of The Street (Rotten Tomatoes – Metacritic).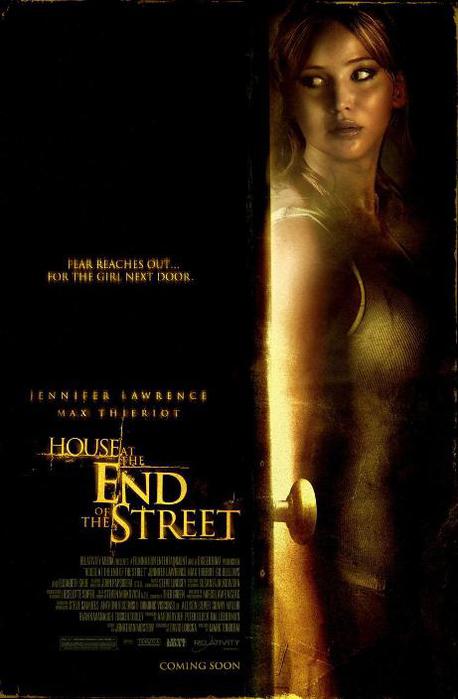 "The kind of bland, mediocre thriller that's tough to review in the sense that it's difficult to put a shoulder shrug into words. How can I turn "meh" into a full review?" Brian Tallerico HollywoodChicago.com
Don't bother.
"A soulless, uncreative, cliché-laden anger generator disguised as a horror thriller, Mark Tonderai's film undermines itself at every turn and infuriates its audience." Todd Gilchrist Celebuzz
The movie is an audience tormentor set to 'meh.'
"I hope Lawrence takes some time today to hug her Catching Fire producers for her good fortune." Brian Orndorf Blu-ray.com
"The final act of House at the End of the Street makes almost no sense in the moment and even less in retrospect." Mark Dujsik Mark Reviews Movies
Audiences, take note: You will have a better sense of what's going on by walking out ten minutes early.
"The location really has nothing to do with it." Matt Pais RedEye
Location has everything to do with it. Just ask the dead man if he had Trouble With The Curve (Rotten Tomatoes – Metacritic).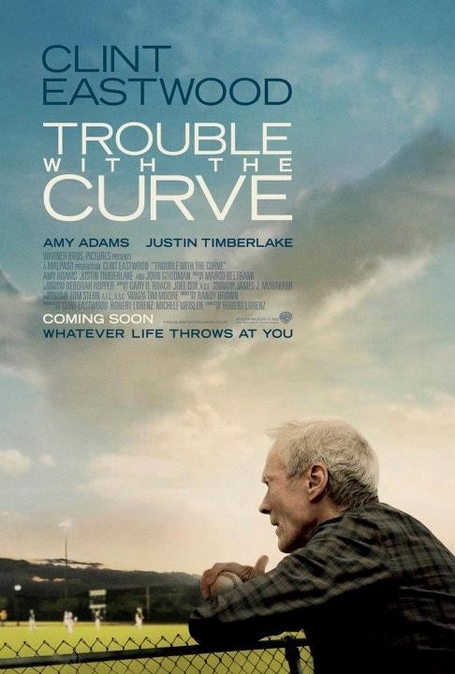 "Slogging through the first 75 minutes of Trouble with the Curve is akin to watching a scoreless baseball game that doesn't get exciting until the ninth inning." Tyler Hanley Palo Alto Weekly
A movie about watching baseball is as exciting as watching baseball. In this case, accuracy is more curse than blessing.
"While 'Trouble With the Curve' isn't a grand slam of baseball movies, it's a solid pop fly and double that gets the job done." Jim Judy Screen It!
Baseball metaphors are easy when a film strikes out or hits a homerun, but meaning gets muddled when mass-produced, for example:
"Hobbled by a plot in which every development is as obvious as a hanging breaking ball from a washed-up middle reliever." Marc Mohan Oregonian
Which is the opposite of a…
"Steeerike!" Tom Long Detroit News
"Even if Eastwood's grumpy old man routine wears you down – it's perhaps too much of a not-very-good thing – there are lots of terrific second bananas." Stephanie Zacharek Film.com