Your Sister Rocked My Boy
on
June 15, 2012
at
3:46 pm
The meaning of this week's roundup title hinges on the word 'rock,' with interpretations that include: hurling stones, physical exertion, or jamming with a band. If you don't want to question anyone involved in the rocking, consider asking Your Sister's Sister (Rotten Tomatoes – Metacritic).
"After putting male insecurity under a comic microscope in "Humpday," writer-director Lynn Shelton hands the fairer sex a more prominent role in Your Sister's Sister, another winning study of relational boundaries crossed and sexual dares gone awry." Variety Justin Chang
Winning 'sex dares' are part of a different genre.
"There is a looseness to the dialogue that suits the mood of the story-each character gets his or her own bombshell (or two) to digest and has to figure out how to cope with it." Time Mary Pols
"A spontaneous, engaging character study of three people alone in a cabin in the woods." Roger Ebert Chicago Sun-Times
The last movie about a cabin in the woods also involved studying the insides of the characters.
"The dialogue was largely improvised during a 12-day shoot, and the chemistry between the leads appears effortless." Elizabeth Weitzman New York Daily News
Nothing good is effortless, only evidence of masters at work.
"Shelton's work here suggests that mumblecore may be finding its way out of the artistic ghetto it's placed itself in." Lou Lumenick New York Post
Given the 'poor artist' cliché, maybe it's good to live in the artistic ghetto. These impoverished innovators could be responsible for the next Rock Of Ages (Rotten Tomatoes – Metacritic).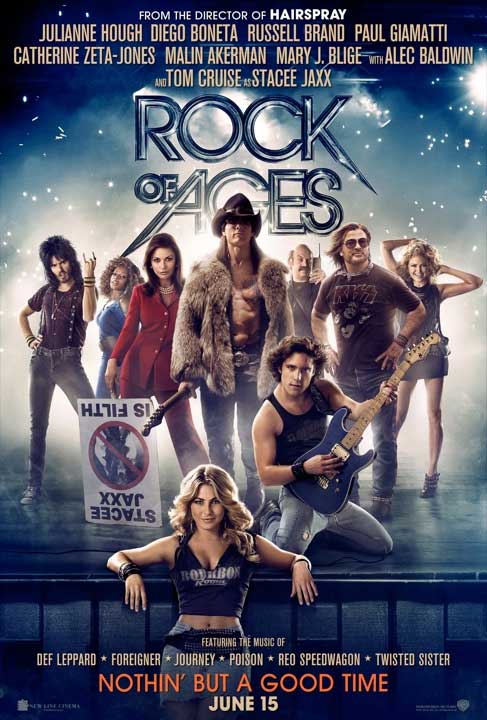 "Rock of Ages is a soundtrack with a visual component tacked on. It's not so much a musical movie as music, with a movie. The experience of watching it is akin to listening to a runaway jukebox stuck in the '80s." Christopher Lloyd Sarasota Herald-Tribune
Listening to two hours of jukebox music would cost you ($1 per song @ 3 min per song for 2 hours) roughly $40 bucks. So, bargain!
"Disposable, overly long fun best enjoyed with BFFs and a bevvie." Total Film Jane Crowther
It's a shame movie theaters don't serve the kind of 'bevvie's' that best accompany bad karaoke.
"Rock of Ages is an effulgent celebration of fakeness. It isn't trying to be real; it's trying to be faker than any fake thing has ever been before." Salon.com Andrew O'Hehir
"There's no denying the party-time pow of Rock of Ages, or of Tom Cruise's performance." Peter Travers Rolling Stone
Any deniers up to the challenge?
"It's enough to make you "stop believin.'" Roger Moore McClatchy-Tribune News Service
"They didn't pour some sugar on this thing; they poured the whole friggin' box." Matt Singer ScreenCrush
Every Breath You Take reminds us Everybody Wants To Rule The World, so Against All Odds you should Jump, Walk Like An Egyptian, and Wake Me Up Before You Go-Go, because even though Every Rose Has Its Thorn, Girl You Know It's True, that it Hurts So Good When Doves Cry and Nothing's Gonna Stop Us Now.

"A few days after seeing a screening, I was driving by a billboard for the movie, and I thought, well, who knows? That might be fun. Then I realized I'd already seen it. And forgotten it." Michael Phillips Chicago Tribune
If you routinely forget the last movie you saw, consider making a checklist of other important things, like whether or not That's My Boy (Rotten Tomatoes – Metacritic).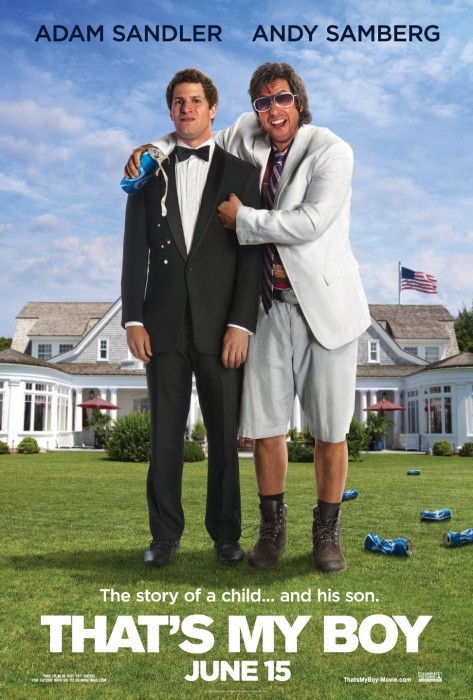 "It's monumentally coarse and vulgar, aimed at the mentality of a 14-year-old locked inside his father's liquor cabinet, and nothing about it is funny, least of all Adam Sandler." San Francisco Chronicle Mick LaSalle
Wait, Adam Sandler has a 14-year-old locked in his liquor cabinet?
"That's My Boy more than lives up to its R-rating – including one gross-out gag repulsive enough to make you put down your popcorn." Miami Herald Rene Rodriguez
Dieters, take note.
"I know, when Sandler's not trying he's an easy target, and he's not trying here. But honestly, this is one of those movies you feel stupider just for having sat through. I think I'm already worse at math." Bill Goodykoontz Arizona Republic
"Is it time for Adam Sandler to stop appearing in his own movies?" Rene Rodriguez Miami Herald
Maybe, but it will make Happy Madison sad.
"Even with 87.5 years to go, the 21st century may never see a stupider comedy than That's My Boy." Michael Phillips Chicago Tribune